A buying guide to help you select the best bread maker plus the pros and cons.
Do you love the smell of fresh bread in your house? Bread makers make it easy to create delicious, homemade bread without all the fuss. There are many different models on the market, so it can be tough to decide which one is right for you.
In this blog post, we will provide a buyer's guide to help you choose the perfect bread machine for your needs. We'll also reveal our top three picks for the best bread machines.
And be sure to find out about kitchen knives and cutting boards for your kitchen. Maybe you're looking to buy an electric kettle or pizza oven? – I've got you covered with my other articles.
THIS POST MAY CONTAIN AFFILIATE LINKS. As an Amazon Associate, I earn from qualifying purchases. PLEASE READ MY DISCLOSURE FOR MORE INFO.
Bread maker buying guide
There are many different types of bread makers to choose from. To find out which one is right for your kitchen appliance, determine your wants and needs.
Consider how much bread you want to make at a time and choose a machine that's the right size for you. A 2-pound bread maker is great for a family and yields roughly 16 slices of bread.
Price is always a consideration. A lower-priced bread maker will probably be sufficient for occasional uses, but if you plan on using your machine regularly invest in a quality higher-priced unit.
Features such as dual kneading paddles do a better job than just one paddle. A timer that lets you set a delay is nice to have as well. Also, look at the programming options for the types of bread you want to make.
Look at the actual size of the machine and where in your kitchen you will put it, or store it when it's not in use.
A family should buy a machine that bakes at least 2-pound loaves of bread with a delay-start timer.
What should I look for when buying a bread machine?
When it comes time to buy your own bread maker, there are several things you'll want to consider:
Bread Machine Size: Bread makers come in

different sizes

, so you'll need to choose one that fits your needs. If you don't have a lot of counter space, then you may want to buy a smaller machine.
Bread Machine Price: Bread makers vary in price, from around

$70 to $700

or more. The price will depend on the machine's features and capabilities. Bread machines can be expensive, so it's important not to buy one that isn't worth your money.
Bread Machine Features: Bread makers offer a variety of

features

, such as multiple baking options (pizza dough, gluten-free bread, etc.), crust colors and textures, and even the ability to make jams or doughs for pastries. You'll want to choose a machine that has the features you're looking for.
Bread Machine Warranty: Almost all bread machines come with a warranty, so be sure to check what it is before you buy. If something goes wrong with your machine, you'll want to be sure that it's covered.
Bread Machine Weight: Bread machines, like other kitchen appliances,

can be heavy

, between 10lbs and 24lbs, so you'll need to make sure that you're able to move it around if needed.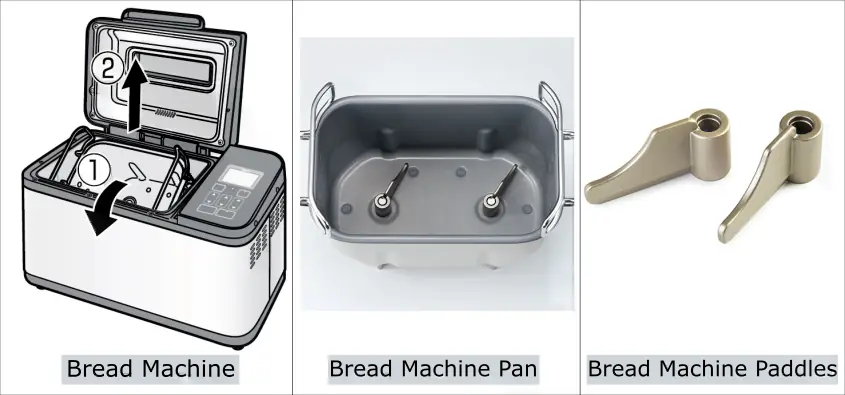 Is there a difference between bread machine sizes?
The difference between bread machines is the size of their pans and how many settings they have. Bread machine sizes range from one pound to three pounds (three pounds is the largest size). The more features or options it has, the more it is going to cost.
| Bread Machine Pan Size | Slices Of Bread |
| --- | --- |
| 1-pound loaf | ~about 12 slices of bread |
| 2-pound loaf | ~about 16 slices of bread |
| 3-pound loaf | ~about 20 slices of bread |
Number of slices of bread from different bread machine pan sizes
How does a bread machine work?
A bread machine works by mixing the ingredients together, then baking them into a loaf of bread. Bread machines have four main parts:
Bread pan: This is where you put all your ingredients to be mixed and baked into a loaf of bread. It can hold up to two pounds of dough at one time.
Kneading paddle: The machine uses a kneading paddle to mix and knead the dough.
Bread crust control: This allows you to choose how crispy you want your bread's crust to be.
Timer: You can set the timer on your bread machine so that it will automatically start and stop baking at the correct time.
You just put all the ingredients into the bread pan, select the program you desire, and press Start. There are options to make a variety of different types of bread, including white, wheat, and French.
What are the different types of bread machines?
There are three main types of bread machines. They vary in price and features, so you will want to choose one that fits your needs best:
Automatic Bread Machines: These machines do all of the work for you, from kneading to baking. All you have to do is put in your ingredients and program the machine.
Programmable Bread Machines: These machines allow you to set the time, temperature, and other settings manually. This gives you more control over the baking process.
Manual Bread Machines: These are the most basic type of bread machines. They do not have any pre-programmed settings; you have to knead and bake the bread manually.
Is it worth buying a bread machine?
Yes, it is worth buying your own bread machine if you enjoy making homemade bread or want to learn how. Bread machines make the process much easier and faster, so you don't have to spend as much time in the kitchen.
There are some pros and cons of bread machines; let's check them out below.
What are the advantages of using a bread machine?
There are several advantages to using a bread machine:
Bread machines are easy to use. All you have to do is put in your ingredients and press a button.
Bread machines produce consistent results. You know exactly what you're going to get every time since the machine does all the work for you.
Bread machines are fast and efficient. They can make a loaf of bread in a few hours, which is much quicker than kneading by hand or using a traditional oven.
Bread machines save time and energy because they don't need to be preheated like an oven would require.
Bread machines are convenient and can be used anywhere, including on vacation or while camping.
Bread machines have settings that allow them to make all sorts of different bread, including whole wheat and gluten-free options. In addition, some models even allow you to make pizza dough or cinnamon rolls in your bread machine! Bread machines are a great tool for any baker who wants fresh, homemade bread without the hassle.
What are the disadvantages of using a bread machine?
There are some drawbacks to using a bread machine:
Bread machines take up counter space in your kitchen that may not otherwise be available if you're cooking other things at the same time.
Bread machines can be expensive, especially if you want one with a lot of features or programs.
Bread machines can be loud and may not be suitable for apartments where noise might disturb neighbors below the unit.
My Recommended Best Bread Machines:
Now that you know all about bread machines, here are the top three machines we recommend for the best homemade bread:
Best Overall: Zojirushi BB-PDC20BA Home Bakery Virtuoso Plus Breadmaker – automatic 2-lb. breadmaker bakes a large traditional rectangular shaped loaf.
Best Budget: Hamilton Beach Bread Maker Machine – 2-pound digital bread maker with 12 programmable settings.
Ease Of Use: Cuisinart Bread Maker, Up to 2lb loaf, new compact automatic – Makes 2-pound loaves in a slim designed machine.
Read my review of all three of these models including the pros and cons of each.
How to make the perfect loaf of bread with a bread machine
To make the perfect loaf of bread in your bread machine, you will need to follow these simple steps:
Measure the ingredients accurately. All machines require liquid, so make sure that the measuring cup is marked in ounces. Bread machines require a certain amount of liquid per cup of flour.
If you are using yeast, make sure that it is fresh and at room temperature when measured out.
Add the ingredients to the bread machine in order: water first, then dry ingredients (yeast should go on top), followed by wet ingredients such as butter or oil.
Select the type of bread you want to make. Check your machine's manual for the correct settings.
Press start! The bread maker will do all of the hard work for you.
Think about buying bread mixes such as Bob's Red Mill 10 Grain Bread Mix to make the process even easier.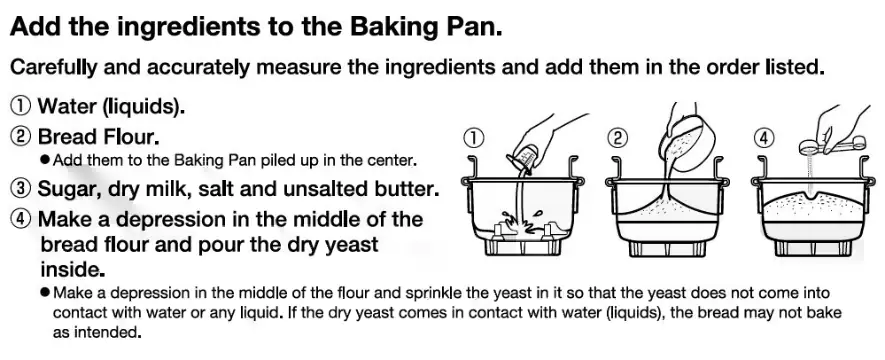 What else can you use a bread maker for?
A bread machine can be used to make many other things besides bread. Bread machines can be used to make pies, pizza dough, bagels, and even pasta. Bread machines are great for making a variety of doughs that you can then make into your own creations. Bread machines are also great for making gluten-free bread and pastries.
Buy a bread machine that can also make pizza dough, and you can make delicious homemade pizza.
Bread machine maintenance and tips for cleaning your bread maker
To maintain your bread maker and keep it in good working order, you will need to clean it on a regular basis.
The best way to clean your bread machine is to use a soft cloth and warm water to wipe down the outside of the machine.
Be careful not to get liquid inside your bread maker as it could cause damage to the electrical components. Bread makers should always be unplugged before they are cleaned or any repairs are attempted.
If bread crumbs or dough accumulate inside the bread pan, use a soft brush to clean them out. You can also soak the bread pan in hot water for a few minutes to help loosen any stuck-on dough or crumbs.
Clean the bread maker paddle with soap and water, or let it soak in soapy water for several minutes prior to cleaning.
Related: Bread Machine Troubleshooting: How To Fix
Bread maker accessories like measuring cups, measuring spoons, dough hooks, etc.
You may need a few accessories to go along with your new machine. These items are not essential, but they can make the baking process a little easier.
Measuring cups and spoons – Most bread machines come with a measuring spoon, but not all of them come with a measuring cup. If your machine doesn't have a measuring cup, you will need to get one so that you can measure your ingredients properly. Recipes require the right amount of liquid and flour, so it is important to have an accurate measuring cup and spoon.
Dough hooks – Bread machines can be used to make pizza dough, pasta dough, bagels, and more. Doughs are usually made with a dough hook, so if you plan to make other items besides bread in your machine then you will need to get a set of dough hooks.
Cleaning brush – Bread machines can get dirty pretty easily, so it is a good idea to have a small cleaning brush on hand to clean out all the nooks and crannies of your machine. Bread machines should be cleaned regularly to prevent mold or yeast buildup inside the machine.
Bread machine reviews
"I just bought a new bread machine and I love it! It's so easy to use and the bread comes out perfect every time. The recipes are easy to follow and there are tons of them to choose from. I would definitely recommend a bread machine to anyone who loves homemade bread."
Most people enjoy using their bread machine to easily make homemade bread. It is a useful tool to have in the kitchen, but like most tools, you have to use it to benefit from it. If you want to make bread regularly it is a worthwhile investment.
Frequently Asked Questions
Do you need a bread machine to make bread?
No, you don't need a bread machine to make delicious homemade bread. Bread machines are just one way of making your own loaves at home. You can also use a stand mixer or just knead the dough by hand, then bake it in an oven.
Why does homemade bread taste better?
There are a few reasons why homemade bread tastes better than store-bought bread. First of all, you know exactly what ingredients are going into your bread. When you make it from scratch, there won't be any preservatives or chemicals in it like the ones you would find on store shelves. And second of all, there is nothing like the smell and taste of fresh-baked bread.
Is it better to bake your own bread or buy it from the store?
It depends on your needs and preferences. If you have time to bake your own bread, it is definitely cheaper and you can control the ingredients. However, if you're short on time or don't have a lot of experience baking bread, it might be easier to buy it from the store.
Is homemade bread healthier than store-bought?
There are several reasons that homemade bread is better for you than store-bought. Bread from the grocery store can contain preservatives and other additives, but homemade bread is free of these chemicals. Bread from the store also contains artificial coloring and flavoring, which can be harmful to your health.
Best bread machine buying guide – Summary
We hope you enjoyed this article and found the perfect bread machine for your needs. We've tried to answer the most common questions buyers have about bread machines. You should now have enough information to make an informed decision when purchasing a bread machine. Thank you for reading!
If you are looking for my top pick for the best bread machine, it is the – Zojirushi BB-PDC20BA Home Bakery Virtuoso Plus Breadmaker
Other kitchen articles: