Frigidaire Ice Maker Troubleshooting. In this article, we provide you with a step-by-step guide on how to troubleshoot your Frigidaire ice maker.
We will also provide you with some advice on how to fix common problems that may occur with your Frigidaire ice maker.
So, whether your ice maker is not making ice, is not working properly, or has stopped working altogether, we have the solution for you.
And be sure to find out if an undercounter refrigerator or an indoor smokeless grill is worth it too in my DIY skills series of articles.
Some common causes of Frigidaire ice maker problems include a clogged water filter, low water pressure, a malfunctioning water valve or supply line, or issues with the door or control panel.
THIS POST MAY CONTAIN AFFILIATE LINKS. As an Amazon Associate, I earn from qualifying purchases. PLEASE READ MY DISCLOSURE FOR MORE INFO.
Frigidaire Ice Maker How to Troubleshooting Guide
Follow the 5 steps below plus the troubleshooting tips to get your Frigidaire ice maker working again.
1.
Check the Water Line
Check the water supply line behind the refrigerator. Make sure it is not kinked or bent preventing water to flow through it.
Also, check the valve at the connection to ensure it is turned on and actually supplying water. Note: Frigidaire states the proper water pressure is between 30 psi and 100 psi.
If the water line is okay, move on to the next step.
2.
Reset the Ice Maker
To reset a Frigidaire ice maker, find the on/off button on the control panel. Simply turn off the ice maker and then press and hold the "on" button for 3 seconds to re-enable it.
Also, check the signal arm located by the dispenser tray; this may have been moved to the off position. If so, move it back down to enable ice again.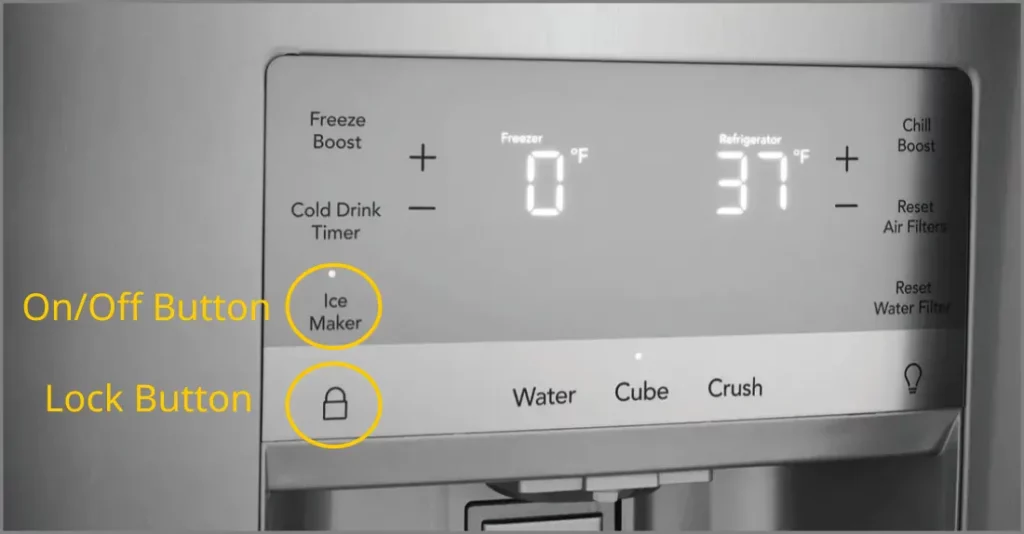 3.
Check/Replace the Water Filter
A clogged or old water filter is one of the most common reasons Frigidaire ice makers stop working.
Frigidaire recommends checking/replacing your water filter every 6 months. To do so, locate your Frigidaire refrigerator model number and then find the correct water filter for your model.
Replacing the water filter is easy and only takes a few minutes. Simply follow the instructions that come with your new water filter.
Be sure to flush the system every time you replace the water filter. The purpose is to clean out the old water and sediment from the lines as well as remove air bubbles.
4.
Inspect/Clean the Ice Maker
If your Frigidaire ice maker is still not working properly, it may be due to a buildup of ice or other debris. Frigidaire recommends that you inspect and clean your ice maker periodically.
To do so, unplug the refrigerator or turn off the ice maker function, and then remove the ice maker bin. Dump out the ice and clean the ice maker with a soft brush and warm, soapy water.
Once you have cleaned the ice maker, reattach it to the refrigerator and plug it back in.
Make sure the auger is engaged with the turning arm in the freezer so it can dispense ice.
Note: It takes about 24 hours to make a full bucket of ice.
ALSO READ: LG Ice Maker Not Working: How to Troubleshoot and Fix
5.
Clean the Condenser
Often overlooked, dirty condenser coils can cause Frigidaire ice makers (and other appliances) to malfunction. The purpose of condenser coils is to remove heat, so if they are dirty, they cannot do their job properly.
The condenser coils are located either on the back of the refrigerator or underneath it. To clean the coils, unplug the refrigerator and carefully vacuum the coils with a brush attachment.
Note: be careful not to damage the coils while you are cleaning them.
Troubleshooting Tips for Frigidaire Ice Maker
Another issue may be the control panel is "locked" which prevents any operation from the control panel, including dispensing ice. Press and hold the Lock button for 3 seconds to lock or unlock the panel.
Prime the water supply after you initially install the fridge or insert a new filter. To do so, hold a glass or bucket against the water dispenser for about 1 minute to remove air from the line. Continue to dispense water for 4 minutes to flush out a new water filter.
Check the refrigerator's doors to ensure they are properly closing, otherwise, it will not be able to dispense ice or water.
Ice may be frozen together preventing them from being dispensed. If so, remove the ice bin and either dump out the ice or try and break it up.
Frigidaire Refrigerator Error Codes
| | |
| --- | --- |
| Power Failure or PF | Press "Alarm Reset" to clear |
| HI or High Temp | Freezer and/or refrigerator section have exceeded the temperature threshold. |
| DI SP | Ice cubes jammed in the chute. |
| H1 | Freezer sensor shorted out. |
| SY EF | Evaporator fan circuit issue. |
Common Frigidaire error codes
How to Contact Frigidaire Customer Service
If your Frigidaire ice maker has stopped working altogether, you may need to call a service technician for help. Frigidaire offers a one-year limited warranty on all of its ice makers. If your Frigidaire ice maker is still under warranty, you can contact Frigidaire customer service for help.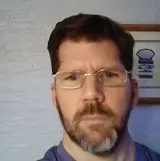 I'm J.S., I created and am the content manager at DIYHouseSkills.com. I do the research and write the articles that appear on this website. I've learned many household skills during my life and think it's important to at least know the basics so that you can save yourself time and money… READ FULL BIO >