I wanted to talk a little about polishing your dress shoes.
When I was younger I didn't know how to polish my shoes and to be honest I never even thought about it. I worked a job wearing the same old scuffed-up dress shoes every day.
Not a good look.
Finally, it dawned on me that I could do better. I bought a new pair of dress shoes and learned how to clean and polish them.
To Shine Shoes At Home Is A Simple Four-Step Process.
THIS POST MAY CONTAIN AFFILIATE LINKS. As an Amazon Associate, I earn from qualifying purchases. PLEASE READ MY DISCLOSURE FOR MORE INFO.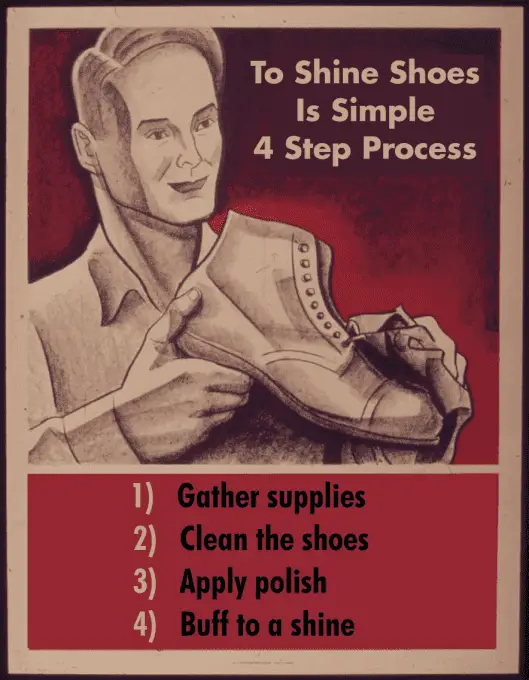 The basic supplies you need will only require you to purchase a tin of shoe polish and a horsehair brush.
This is assuming you have an old T-Shirt laying around to use as a rag and some newspaper for protection.

To build a better kit you could buy a couple of different brushes, a chamois cloth, shoe polish, and shoe cleaner. You can find supplies most anywhere, even some grocery stores carry these products.
1) Gather The Supplies
You will need to buy shoe polish that is the same color as your shoes. Also needed are a couple of clean soft cloths. You can use old clean t-shirts or any soft cotton cloth.
And finally, buy a horsehair brush. This really is required.

2) Clean The Leather Shoes Or Boots
Use a brush to remove dirt from the shoes.
You may need to apply a shoe cleaner to remove the dirt. If so, allow them time to dry before moving on to the next step.
3) Apply The Polish
Using a shoe polish brush, soft rag, or old T-Shirt, apply the polish evenly over the whole shoe. Make sure the polish is of the same color as your shoe.
Use a wax polish for a high shine result.
Use circular motions when applying the polish for even and smooth coverage.
Start with a thin layer of polish and add more as needed.
Allow the polish to dry for about 10 to 15 minutes.
4) Polish To A Buff
Using the horsehair brush, buff the shoe vigorously using moderate pressure.
This will buff and add a shine to the shoes.
Work a little extra on the toe of the shoe since it is the most visible.
Bonus Step: Finish Shine
Use a clean soft cloth and rub vigorously just as in the previous step.
Optionally, do a spit shine: very lightly dampen the shoe then add a small amount of polish. Work it in as in the above step in circular motions.
This will produce an extra high shine.
The whole process could take anywhere from 20 minutes to 45 minutes, depending on how much you want to work on the shine.
Generally speaking, to take care of leather shoes worn frequently,
you should clean and polish them at least monthly.
Also read: How To Iron At Shirt For Beginners
Notes:
Shoes must be clean before starting polishing.
Insert a shoe tree to make polishing and buffing easier.
Use a chamois cloth on the last buffing step to get a high shine.
Put down newspaper or an old towel under the shoes before starting applying polish.
Apply cream polish at the start to thoroughly clean shoes and remove the old layer of polish.
If you own several pairs of shoes and want to know how to properly store all of them, head
over to Martha Stewart where she explains the best practices.
---
I've also compiled a list of questions that are frequently asked on Google on the topic of shoe shining/polishing. We might as well go into those here too so we thoroughly cover this topic.
FAQs
Can I clean and remove old polish?
Absolutely, use a cleaning product such as saddle soap which is designed to clean, soften and preserve leather. As the name suggests it is a fine soap used to thoroughly clean away dirt and grime and even salt stains.
How often should you shine your shoes?
That's entirely up to you and how you treat your shoes. If worn every day, you might need to polish them weekly.  I would say, generally speaking, to take care of leather shoes worn frequently, you should clean and polish them at least monthly. Taking proper care of leather will make them last much longer and look better also.
Can you leave shoe polish on overnight?
You can if you wish. Letting it dry for about 20 minutes is sufficient, but longer will allow more of the polish to be absorbed into the leather. Don't forget to finish the process and buff out the next day.
What is the difference between shoe cream and shoe polish?
Most of what you find in stores is wax shoe polish. A wax polish allows you to produce a high shine on your shoes. It seals and protects leather shoes.
A shoe cream will condition and apply a layer onto the leather shoe.
You can apply shoe cream first and then apply a wax polish if you want.
Why is shining shoes so important?
Shining and polishing shoes are important for a few reasons. First, it maintains, protects, and conditions the leather shoes to ensure a long lifespan. Second, it makes the shoes look good. A high shine on a pair of shoes always looks better than a scuffed-up old-looking pair.
How long should a shoeshine take?
As I noted above, it might take anywhere from 20 minutes to 45 minutes.  It all depends on the condition of the shoe and how often you wear them. If you regularly polish them and take care of your shoes, the process will be easier and quicker to reach a nice shine.
Give yourself about 20 minutes though. Maybe you can finish sooner..
Should I have a shoe tree for every pair of shoes?
Yes, without question.  A shoe tree absorbs moisture from leather shoes thus prolonging their life. They also help keep the shoe's shape and size. Invest in good shoe trees for every pair of leather shoes you own and want to maintain their life.
Summary
There are many reasons to polish your leather dress shoes and boots. Polish will condition and protect the leather which in turn will last a long time.
The process of polishing shoes is pretty easy that only requires a few purchases. Start building a quality shoe polishing kit and take care of your shoes for years to come.