If you're looking for the top 3 bread machines, we recommend the following:
These selections have all been made based on a variety of factors, such as price, features, and customer satisfaction. In addition, all of these machines come with a warranty, so you can be sure that your purchase is protected.
We all know homemade bread is irresistible as the aroma wafts through the house. So now you've decided to purchase a bread maker for yourself. We did some research and brought to you the top three bread makers you can buy.
Check them out–
THIS PAGE CONTAINS AFFILIATE LINKS. As an Amazon Associate, I earn from qualifying purchases. PLEASE READ MY DISCLOSURE FOR MORE INFO.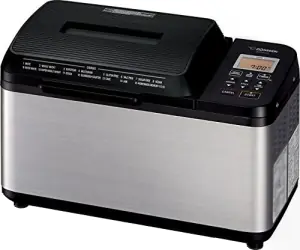 Standout Features: This model has a large LED screen that's easy to read, and it uses two heaters for an even bake.
Makes 2-lb. loaves of bread automatically, just add the ingredients, set the program and it does the rest. You'll have perfectly baked bread thanks to the dual kneading blades and lid heater for even cooking, ensuring that it's evenly browned, uniformly shaped, and raised to perfection.
The advanced settings on the two-pound capacity model allow for customization to a variety of bread recipes, such as multigrain, whole wheat, salt-free, gluten-free, and vegan loaves. You can even choose light, medium, or dark crust.
A rapid setting will bake the loaf and be ready to serve in just two hours and 25 minutes. This bread machine has an average customer rating of 4.7 stars from Amazon shoppers who appreciated the model's quality construction, versatility, and ease of use in their reviews. 
Key Features:
Large easy-to-read LCD Display with convenient key code on lid simplifies course selection.
A convenient 12-hour clock with a 13-hour delay timer makes it easy to set the delay timer for fresh bread when you want it.
Versatile Dough, Cake and Jam courses give you the flexibility to make a variety of foods.
Accessories include a Liquid Measuring Cup, Nested Measuring Cups, and a Measuring Spoon.
Recessed handles on the bottom of the breadmaker allow for easier transportation and storage.
Dimensions: 18 x 10-1/2 x 12-7/8 inches
---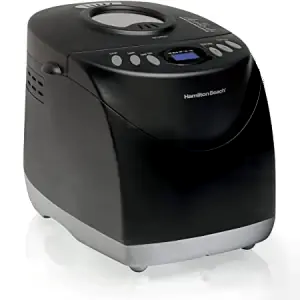 Standout Features: This affordable bread maker has a delay-start and automatic one-hour warming features to let you bake overnight, and it can make dough for pizza, dinner rolls, and more. 
You control the ingredients and nutritional content of your bread when you make it yourself so it's easier to make healthy loaves. With 12 preprogrammed cycles, you can make everything from healthy whole grain and gluten-free loaves to dough for sweet, gooey cinnamon-raisin buns.
Make bread the way you like it with 2 loaf sizes and 3 crust settings to choose from for light, medium, or dark crust. The machine is great for prepping dough for pizza, dinner rolls, cinnamon buns, and more.
Just add your ingredients, select the cycle, and press start. Make everything from basic white and gluten-free bread to French loaves and cinnamon-raisin buns.
Key Features:
Make bread in 3 easy steps.
12 cycles including jam and cake.
Loaf size – choose 1.5 or 2.0 lb.
The bread pan and kneading paddle are dishwasher safe.
Dimensions: 12.2 x 14.13 x 10.43 inches.
---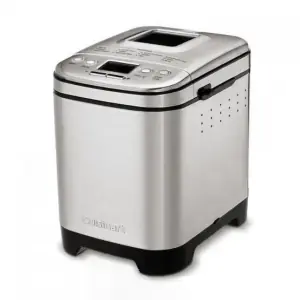 Standout Features: This vertical bread machine is easy to use and has a lid window, so you can watch your loaves until they're perfectly golden. 
Versatile and compact automatic bread maker offers a variety of crust colors and loaf sizes, as well as pre-programmed menu options.
Foolproof recipes include everything from gluten-free and artisan breads to jams and sauces. Think beyond bread and delight family and friends with cakes, pizza, and other treats made in your breadmaker.
A Cuisinart user stated- "Compact size stores easily while making excellent bread. Paddle removal reminder is a great feature so you don't have to dig it out of the final loaf."
Key Features:
12 pre-programmed menu options for a variety of breads. 3 loaf sizes – 1, 1.5, and 2 lbs.
13-hour delay start timer.
The nonstick baking pan is removable for easy cleanup.
60-minute keep warm cycle once the bread is ready.
Dimensions: 10.25 x 13.25 x 11.25 inches.
---