If you're looking for a good set of kitchen knives, we recommend the following:
These selections have all been kitchen knife favorites for a long time and have excellent reviews. In addition, they come with a range of different-sized knives to cover all your kitchen needs.
We all know kitchen knives are an essential part of any kitchen. They're used for everything from chopping vegetables to slicing meat, so it's important to have a good set of knives. But with so many different kitchen knife sets on the market, how do you know which one is right for you? We did some research and found the best kitchen knife sets on the market.
Check them out–
THIS PAGE CONTAINS AFFILIATE LINKS. As an Amazon Associate, I earn from qualifying purchases. PLEASE READ MY DISCLOSURE FOR MORE INFO.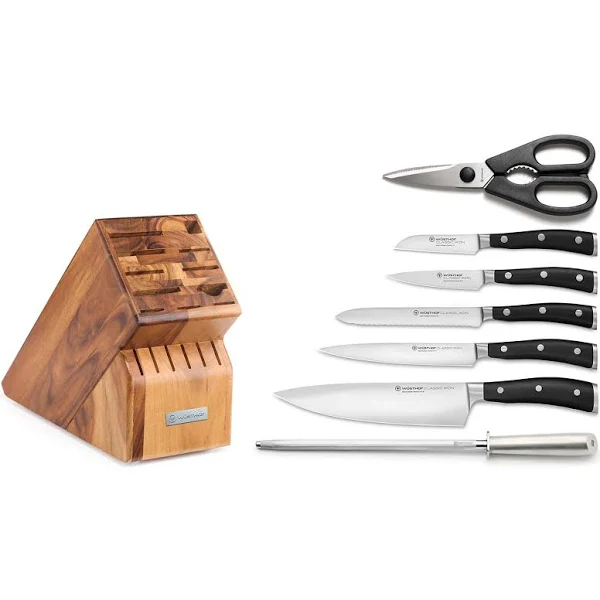 The WÜSTHOF CLASSIC IKON Knife SERIES – Features a classy black handle with a dual bolster for excellent balance, beauty, and the finest cutting experience. Perfected Design, Ergonomics, and Quality.
The 8-Piece set includes a 3″ Flat Cut Paring Knife, 3 1/2″ Paring Knife, 5″ Serrated Utility Knife, 6″ Utility Knife, 8″ Cook's Knife, 9″ Honing Steel, Come-Apart Kitchen Shears, and a 17-Slot Block.
Key Features:
Forged from High Carbon Stainless Steel and tempered to 58-degree HRC. The Precision Edge Technology (PEtec) yields a blade that is 20% sharper with twice the edge retention than previous models.
Crafted to resist corrosion and dulling. This German-made Kitchen Knife set comes with a Limited Lifetime Warranty.
Optimum cutting edge along the entire length of the blade.
The handle is made of a highly durable synthetic material – Polyoxymethylene (POM) – which has a tighter molecular structure to resist fading and discoloration.
---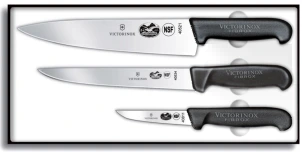 Victorinox knives have long been recognized and recommended for use in the kitchen, they started out in 1884 as a cutlery workshop. Victorinox manufactures a complete range of stamped blades with unique, patented Fibrox handles and they are considered among the greatest values in the knife industry.
A stamped knife has no bolster, which distinguishes it from a forged one. Stamped blades are cut out of cold-rolled steel and then ground, tempered, and sharpened. The process of creating them takes less steps and results in lighter, narrower blades. Many chefs prefer the heavier, sturdier forged blades, whereas many professionals who spend a lot of their day cutting and slicing prefer a lighter knife since it's less fatiguing and easier to control at speed.
Stamped knives are simpler to make and less costly. They have a high level of performance and may even rival the quality of a forged blade, although not the weight or feel.
Key Features:
4-inch paring knife, 8-inch slicer, and 10-inch chef's knife.
High-carbon stainless steel blades provide maximum sharpness and edge retention.
Blades are conical ground lengthwise and crosswise for minimal resistance while cutting.
Patented Fibrox handles are textured, slip-resistant, and ergonomically designed for balance and comfort.
Lifetime warranty; expertly made in Switzerland.
---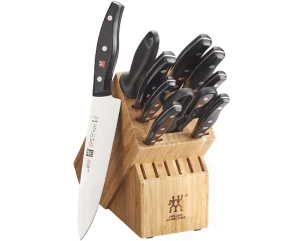 The 11-piece block set includes all of the knives you'll need to get your kitchen ready to go.
TWIN Signature knives are precision stamped from a single piece of German steel, resulting in lighter weight knives that do not compromise sharpness.
The knives are made of proprietary special formula steel that has been perfected for over 280 years. Combined with ZWILLING's signature ice-hardening technique, these FRIODUR blades are harder, sharper, they will NOT STAIN or chip and they retain their sharpness longer.
To ensure an ideal cutting angle, the sharp laser-controlled edge is honed and hand-finished by the most skilled artisans. The three-rivet handle embedded with the ZWILLING logo provides optimum durability.
Key Features:
2.75-inch bird's beak peeling, 4 inches paring, 5-inches serrated utility, 6-inch utility, 7-inch hollow edge santoku, 8-inch chef's, 8-inch bread, kitchen shears, 9-inch sharpening steel.
Ice-hardened FRIODUR blade starts sharper, stays sharper longer, and has superior resilience.
Precision honed blade and laser-controlled edge ensure ideal cutting angle for sharpness and durability.
The ergonomic polymer three-rivet handle is perfectly bonded to the full tang.
---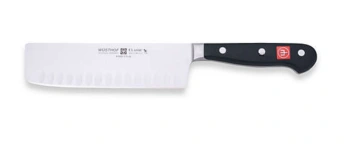 A Nakiri knife is a Japanese vegetable knife and is a versatile tool that may be used to cut, dice, and chop. Its design resembles that of a cleaver, but it should not be confused with one since the Nakiri is not designed for rough usage (such as splitting bones).
The knife's extremely sharp and finely ground blade is created to quickly and finely prepare vegetables, herbs, and fruit. To prevent ingredients from sticking, it has a dimpled blade (small depressions in the blade that allow small pockets of air to develop).
Key Features:
7″ Hallow Edge Nakiri with full tang triple-riveted synthetic polypropylene handle.
Forged from a single block of High Carbon Stainless Steel.
Nakiri Knife is designed with a thinner blade than a traditional cleaver, at a 10° cutting edge, and features a long straight edge.
Rust and corrosion resistant.
Hand wash.
---