An easy-to-use and virtually foolproof hydroponic indoor garden system in the convenience of your home is ideal for a first-time gardener or an experienced green thumb.
If you're thinking of buying an indoor gardening system, you're in the right place. In this post, we'll take a look at the 5 best systems on the market, and compare them so that you can make an informed decision.
Each of these systems has its own strengths and weaknesses, so it's important to choose the right one for your needs.
We'll look at the different systems available, their pros and cons, as well as a few tips for getting started successfully in your own home with an indoor garden system.
And be sure to find out if a countertop ice maker or an indoor smokeless grill is worth it too in my DIY skills series of articles. Maybe you're looking to buy a water filter, or just want some general maintenance guides, I've got you covered with my other articles.
THIS POST MAY CONTAIN AFFILIATE LINKS. As an Amazon Associate, I earn from qualifying purchases. PLEASE READ MY DISCLOSURE FOR MORE INFO.
Let's get started.
What Is The Best Indoor Vegetable Garden System?
The best indoor vegetable garden systems provide ease of use, reliability, convenience, and cost-effectiveness.
Before jumping into the reviews, let's do a quick overview of what these systems are about.
All of these systems use hydroponics to grow plants indoors. Hydroponics is a method of growing plants without soil, but instead, uses an inert medium and a nutrient-rich solution to feed the plants.
Imagine having a little piece of the backyard garden inside your home—with no dirt, bugs, or sun required. Grow plenty of plants with limited space and water usage using this new technology. There are many great choices from small beginner-friendly gardens to larger units that produce plants for the whole family.
Here are my top 5 picks for the best indoor garden systems to own: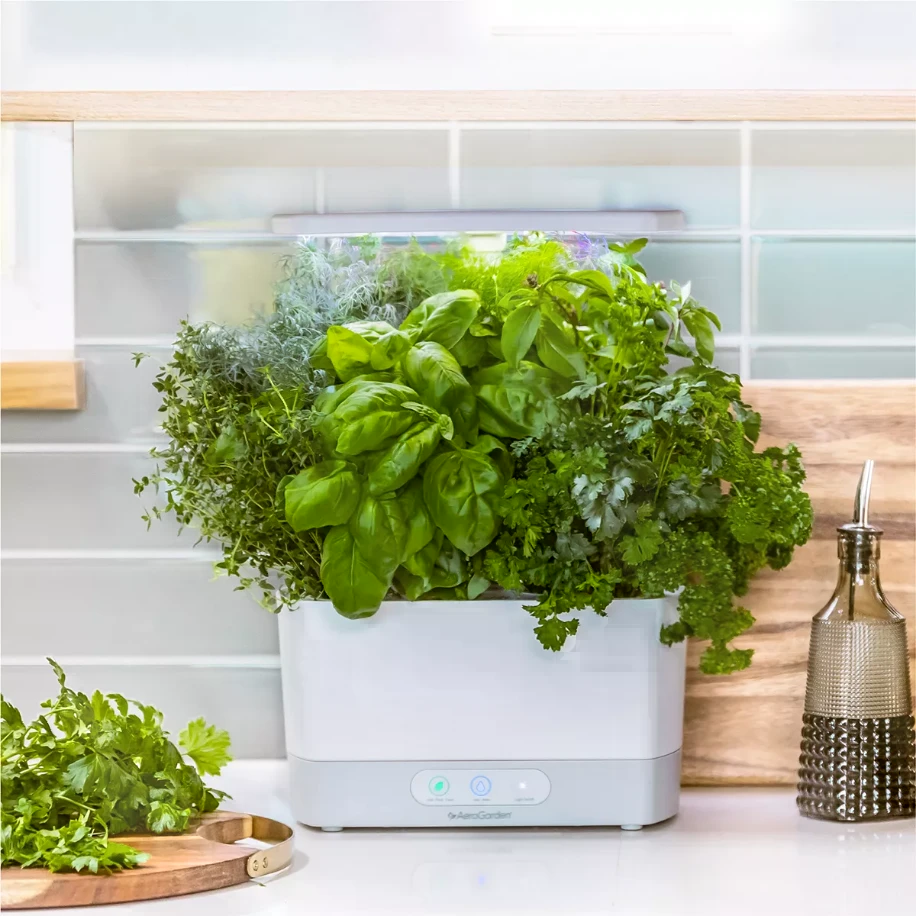 This innovative garden system comes with a built-in LED light and watering system, making it simple for anyone to create a thriving garden right on their countertop. Whether you're looking to grow some greens or want easy access to fresh herbs year-round, the AeroGarden Harvest is the perfect way to get started.
AeroGarden Harvest is the perfect addition to your kitchen countertop or desk. It's an indoor gardening system that allows you to grow fresh herbs, vegetables, and flowers right in your own home!
The AeroGarden Harvest comes with everything you need for growing: seed pods (6), nutrients pack, water pump/reservoir, LED light (20W) with on/off switch & timer, 3-button control panel with auto shut off function for safety when not in use.
The pods are made of a special plastic that is designed to hold the nutrient-rich solution, and the plant's roots grow down into the solution. The AeroGarden Harvest has three buttons on the control panel: one for turning it on and off, one to indicate you need to add water, and one to indicate to add plant food. When it needs more water or food, the lights will blink.
This product comes with a 1-year warranty from AeroGrow International including a 100% germination guarantee, which means the company will replace any faulty or non-growing seeds.
The company, led by CEO Mike Wolfe, has been around for over 15 years, since 2005, and they are the world's leading indoor hydroponic gardening system.
There are several models of the AeroGarden available from small to very large, so any size family can find a model that suits them. I chose the Harvest because it is a mid-sized, moderately priced unit that happens to also be the company's best seller.
Key Features:
6 Pods and a grow height of 12 inches.
Just insert the seed pod, add water and plant food. That's it.
Full-spectrum LED 20 Watt lighting with an automatic on/off timer.
Simple 3-button control panel.
11 x 8 x 17 inches in size.
100% seed germination guarantee.
Cons:
The grow height is limited to 12 inches. If you need more, select one of the larger units.
The tank needs to be refilled semi-regularly. As the water drops below halfway, an indicator light will tell you to add more.
What Comes In The Box?
The AeroGarden Harvest with LED grow lights is already assembled.
A power cord that plugs into the pump at the base of the unit.
6 Seed pods.
Grow domes.
Liquid plant food.
What Do You Need To Get Started?
Everything you need to get started comes with the garden, you just need to add the water.
To get started with the AeroGarden Harvest:
Plugin the unit.
Add water to the fill line.
Add the liquid plant food to the water per instructions.
Insert the seed pods. 3 seed starting kits are available, one comes with the unit. The taller plants go in the back.
Place the grow domes over the seed pods. You can remove them after germination.
Lower the LED light panel to the lowest position. Raise the LED light as the plants grow.
You can adjust the timer for the LED lights using the control panel if you wish. The LED stays on for 15 hours a day.
That's all there is to setting up and getting started growing plants in the AeroGarden.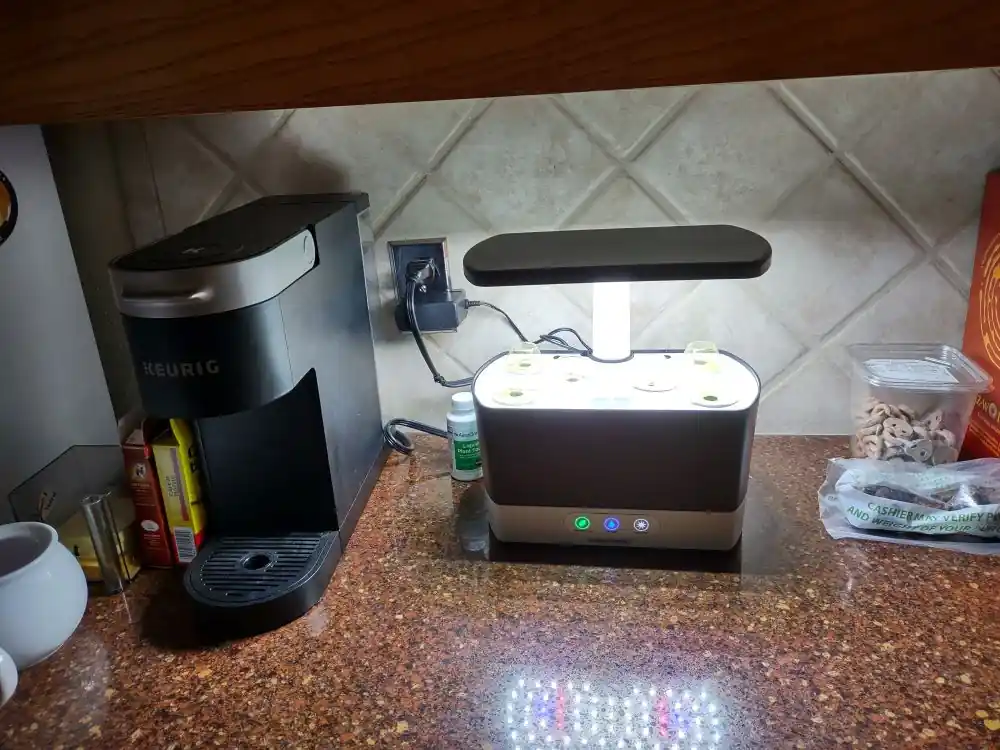 The picture above is my AeroGarden when I initially set it up. It is now growing like gangbusters. You need to be aware of how bright the LED panel is. The lights stay on for 15 hours, so I set mine to come on at 6 am and off at 9 pm.
Tip: Keep an eye on the root growth and trim if they get too long as they might interfere with the pump. The control panel lights will blink when it is time to add more water and nutrients.
---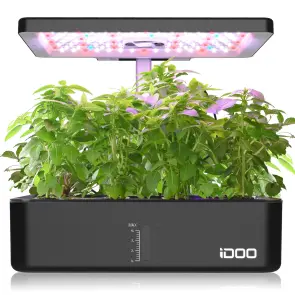 The iDOO 12Pods Hydroponics Growing System is a great option to consider. This system is easy to use and helps you to grow healthy plants with little effort.
Let's take a closer look at this product and see what it has to offer.
The iDOO 12Pods Hydroponics Growing System is a compact hydroponic system that has a large 6.5-liter tank, a built-in fan and pump that run for 30 minutes, then off for 30 minutes. The LED top panel can be raised up to 14.5 inches of grow space.
It has a touch-sensitive panel on top of the unit to turn it on/off, select a vegetable or fruit LED setting, and a fans/water button.
It comes with everything you need except seeds to get started including the pots, growing net, plastic cups for each pot, adjustable hanger, and instructions. This product has received many positive reviews since its release on Amazon.
It is easy to use and helps you grow healthy plants with little effort. The iDOO 12Pods Hydroponics Growing System has a compact design that saves space, making it perfect for apartment living or small outdoor spaces.
Key Features:
12 pods with a grow height of 14.5 inches.
Full-spectrum LED 23 Watt lighting.
Large 6.5-liter water tank with a see-through window.
Check the water level every few days and add plant food once every couple of weeks.
Noise level <40dB
Cons:
It is not as easy to move around as other hydroponic systems on the market with its size of 13.8″ x 10.23″ x 9.64″.
The wires coming from the top panel in the back do not look very good just hanging down.
The water needs to be changed between 1 to 2 weeks.
What Comes In The Box?
The iDOO 12Pods Hydroponics Growing System with LED panel will need to be assembled.
A power cord with two cables for the pump and power.
12 seed baskets, sponges, and plastic domes.
2 bottles of nutrients.
Naming tags, a rubber stopper, and a plug.
What Do You Need To Get Started?
To get started with the iDOO 12Pod:
Assemble the LED panel to the support arm.
Add water to the 4L mark.
Fill both nutrient bottles with water, then add 20mL of each to the water tank.
Plugin the power adapter for the unit.
Place a sponge into each seed basket. You will need to supply your own seeds.
Place a plastic dome over each pod just until germination.
Lower the LED light panel to its lowest position.
On the control panel, select vegetables or fruits.
Tip: The iDOO 12pod circulates water around the tank, whereas the AeroGarden pumps water to each seed pod.
---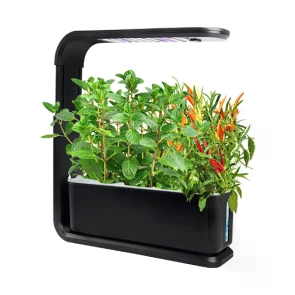 Looking to get into herb gardening but don't have a green thumb? No problem! With the Gardtech Hydroponics Growing System, you can grow delicious herbs with little to no effort.
This system is easy to set up and even easier to use and comes with everything you need to get started. Plus, the three-pod design means you can grow a variety of plants simultaneously, making it the perfect solution for herb lovers of all levels of experience.
This kit comes with 3 Pods, Full Spectrum LED Grow Light with Automatic Timer, Equipped with all herb seed pod kits: includes a bottle of patented, specially formulated 50g solid nutrients, 3 grow baskets, 3 grow sponges, 3 grow domes for optimal germination.
Key Features:
3 Pods – great for growing herbs.
Full-spectrum 20 Watt LED with an automatic timer.
Herb seed pod kits, nutrients.
Visible water level indicator.
Cons:
Small with only 3 pods. This might be ideal for some.
Cannot grow larger plants.
This is an inexpensive model for anyone looking to start a small indoor garden growing mostly herbs. It is simple to use, add water, nutrients, and the 3 seed pods.
Tip: This is not a name-brand unit so the product support might be limited. If you just want to try out a small garden without it costing you too much money, this may be a good option.
---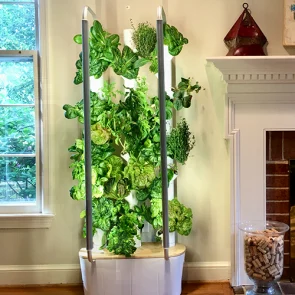 Looking for a way to grow your own produce, right at home? Look no further than the Gardyn Home 1.0 – Indoor Vertical!
This award-winning hydroponics system can accommodate up to 30 large plants at once and is perfect for leafy greens, herbs, strawberries, peppers, cucumbers, and tomatoes.
Plus, all of the seeds are organic and non-GMO, ensuring that you get the highest quality produce possible. With its embedded cameras and multiple sensors (temperature, humidity, and water level), the Gardyn Home 1.0 is the most advanced vertical hydroponics system on the market today.
This greenhouse system provides a space for growing edible plants indoors, so you can enjoy fresh produce all year long. The Gardyn is perfect for anyone with a limited amount of space because it utilizes vertical gardening to make the most of your square footage.
The Gardyn Home KIT comes with the Gardyn Home garden (including lights, pump, cameras, sensors, tank, columns, etc.), all the accessories you need (yPod caps, Sleeve, etc.), plant food, and 30 plants so that you can start to grow right away.
Key Features:
Can grow 30 large plants, including vegetables.
Grow 10x more food using 90% less water.
It has 2 60-watt LED light bars.
An automated, low-energy vertical growing system with embedded 5MP cameras and multiple sensors (temperature, humidity, water level) to fully control the growth of your plants, optimize it, and let you know if there is anything you need to know or do.
Tightly integrated indoor farming system for year-round crop production.
Has a large 5+ gallon water tank.
A WiFi connection and app let you know the status and tips of your plants.
Cons:
There are included instructions, but know that you will need to assemble the unit yourself. It is fairly basic as it snaps together.
It is pricey, but it is also larger, more feature-rich, and produces much more than other indoor gardens.
What Comes In The Box?
Everything you need to start and grow a garden is included in the box.
The welcome kit includes a variety of 30 plants: Arugula, Basil, Breen, Butterhead, Cherry Tomatoes, Chives, Cilantro, Dill, Green Mustard, Jalapeños, Kale, Matilda, Mint, Red Mustard, Rouge d'hiver, Sweet Peppers, Sweet Thai Basil, Tatsoi, Thyme and Watercress
The water tank, columns, pump, as well as an assembly manual, are included.
An accessory bag with 6 pod caps and a silicone sleeve to handle your plants for harvesting.
What Do You Need To Get Started?
Just assemble the unit, add water and nutrients, insert the seed pods, and plug it in.
You will need a 110V power outlet and a WiFi connection.
Next, connect it to WiFi and set up the app.
The cameras will monitor the plants and let you know what to do to take care of them.
This is meant to be a full-proof, automated growing system that is convenient for you to use.
Tip: This garden grows enough plants and vegetables that you won't have to stop in the produce aisle of your store anymore.
---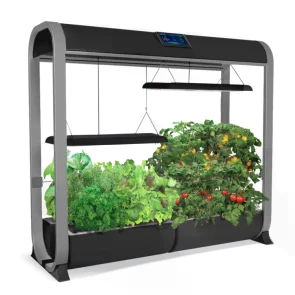 AeroGardens have been called "personal farmers markets in your kitchen" because they let you grow herbs and vegetables at home year-round with seed pods.
The AeroGarden Farm 24Plus garden will grow up to 24 plants with 24 inches of growing height that allows for large, regular harvests with enough fresh produce for an entire family.
It functions as two separate gardens in one with completely customizable controls, motorized lights, and large Grow Bowls for each side.
Exercise complete control of your herb garden with two customizable, motorized, full spectrum 60-watt LED grow lights that are tuned to the specific needs of plants to maximize photosynthesis, resulting in rapid, natural growth and abundant harvests.
The Farm 24Plus is the newest garden from AeroGarden, and it is perfect for anyone who wants to have a large herb garden.
Everything you need to grow is included with the Farm 24Plus system. 24 seed pods with a selection of non-GMO heirloom greens, herbs, and tomatoes. Also included, are 2 bottles of plant nutrients. 2 60 Watt LED lights, and two separate bowls.
Key Features:
Improved customizable touch screen.
WiFi connection.
2 separate 60 Watt LED light panels.
2 feet of grow height and room for 24 plants.
2 separate growing platforms to customize what you grow and when you grow.
Very quiet operation.
Cons:
There are a lot of parts to assemble but the tools are included as are the instructions.
What Comes In The Box?
2 LED lights, 2 water bowls.
Trellis, metal frame.
A control box.
All the screws and a hex tool for assembly.
What Do You Need To Get Started?
You will need to assemble the unit but everything is included.
The 24Plus acts as two separate gardens, so you can grow a variety of plants at different times.
Add water and plant food to the bottom tank.
Insert the seed pods and place a grow dome over each one.
Use the touch screen control panel to start the growing cycle and connect the unit to WiFi.
Download the app to your phone for remote connection to the unit.
Tip: You will need to hand pollinate some vegetable plants to get them to produce.
Find The Indoor Garden That's Right for You
I think the AeroGarden systems are the best and you can certainly find one that is the right size for you and your family. Check out the AeroGarden store on Amazon to see their complete product lineup as well as their seed pod kit accessories. This is an affiliate link with Amazon in which I earn from qualifying purchases.
My Top Picks
And those are the top best 5 indoor gardens to suit anyone's needs for growing herbs, vegetables, or flowers inside your home.
Here's a quick summary of my top picks:
Is Growing Your Own Indoor Garden Worth It?
Yes, growing your own indoor garden is worth it. There are many reasons why people are growing their own indoor gardens these days. Some of these reasons include saving money, having access to fresh food when they want it, and knowing what is in the food they eat.
Growing your own indoors can be a hobby or a full-time job. If you have enough space in your home for an indoor garden, do some research on the types of plants that you want to grow. Generally, choose smaller varieties of vegetables and plants for the smaller-sized indoor gardens.
#1) One of the benefits of growing your own indoor garden is that you can save money. By growing herbs, vegetables, and fruits, you can eliminate trips to the grocery store.
#2) Not only will you save money on food, but you will also save on gas or transportation costs. In addition, many people find that they have more control over the quality of the food they are eating when they grow it themselves.
#3) Another benefit of growing your own indoor garden is that you can have access to fresh food whenever you want. If you grow fruits, vegetables, or herbs indoors you can have a continuous supply of this food year-round.
#4) You can also experiment with different plants to see what grows best under your conditions. Growing your own indoor garden allows for plenty of space to expand and try new plants.
Is An Indoor Garden Cost-Effective?
We look at cost-effectiveness in terms of monetary cost but also in time spent maintaining and working with a garden. This is where an indoor garden system really shines.
An indoor garden can be cost-effective compared to starting out with an outdoor garden. Your largest expense will be the indoor garden system itself. After that initial purchase, you may only need to buy seeds and occasionally liquid plant fertilizer.
These indoor gardens do not require soil, so there is no expense there. The difference with an outdoor garden is the purchase of soil, weed maintenance, watering schedule, and so on.
If are not great at keeping plants alive, an indoor garden may be your best bet. These gardens typically come with a care guide that will tell you how to keep your plants thriving, and have automatic features.
Most indoor garden systems come with a watering system that waters the plants automatically, as well as an automatic LED lighting system to provide the optimal amount of light the plants need.
Also, indoor gardens typically do not require weeding because the indoor garden system comes with a weed blocker surrounding the plants' boxes. This keeps your indoor garden looking spotless and beautiful without too much time spent on it.
What Is Easy To Grow Indoors?
What plants are easy to grow in an indoor garden system? Many herbs and smaller vegetables are typically the easiest to grow in indoor gardens. Some plants that are easy to grow in indoor garden systems include:
Basil
Mint
Parsley
Dill
Cilantro
Oregano
Thyme
Strawberries
Tomatoes (small varieties)
Peppers
Lettuce
Kale
Mixed Greens
You are mainly limited by the size of your indoor garden system. If the LED panel raises to a maximum of about 12 inches, look for and buy plant seeds that won't exceed this height.
Frequently Asked Questions
Why is hydroponic gardening better than soil gardening?
One of the benefits of hydroponic gardening is that it is much more efficient than traditional soil gardening. With a hydroponic system, you can grow plants in significantly less space, and you can also use less water since the plants' roots are directly exposed to nutrient-rich water. The indoor gardeners also have precise control over all their nutrient levels, so they can prevent any plant diseases or pests by giving them too much of a particular nutrient at once.
How often do you have to change the water in a hydroponic system?
The answer depends on your garden system. Check the manual for its recommendations. However, water should be changed anywhere from 2 to 3 weeks.
Is tap water okay for hydroponic gardens?
In most cases, yes. Tap water is normally ok to use in an indoor garden.
Indoor Garden Systems – Summary
Those are the top 5 best indoor gardening systems you can get today. They are all quality products that each meet a certain demand from small to large units. It's important for you to decide how much you would like to grow and then select the correct size to meet that end.
If you're looking for my top pick, I recommend you select the AeroGarden Harvest. It is a top-quality medium-sized unit that fits nicely on any countertop.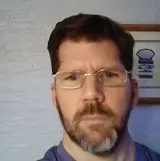 I'm J.S., I created and am the content manager at DIYHouseSkills.com. I do the research and write the articles that appear on this website. I've learned many household skills during my life and think it's important to at least know the basics so that you can save yourself time and money… READ FULL BIO >