Looking for Eufy scale troubleshooting to resolve issues you are having? This article goes step by step through troubleshooting procedures.
Eufy scale troubleshooting will get to the cause of issues encountered and get the scale working properly again.
How To Fix Eufy Scale Not Working
I've tried to cover questions users frequently have with their Eufy scale. Let's go through them step by step. Do you have a question? See if I have answered yours.
Eufy Scale P1 vs C1 Models – Differences
I've listed the three Eufy smart scales with their model numbers in the table below. These are current as of this writing.
| Eufy Smart Scale | Model # |
| --- | --- |
| Smart Scale P1 | T9147 |
| Smart Scale C1 | T9146 |
| Smart Scale | T9140 |
The Eufy smart scale P1(T9147) is the newest model of the three and replaces the original model(T9140). So currently the P1 and C1 are the models available for sale.
| Eufy Scale P1 | Eufy Scale C1 |
| --- | --- |
| Tracks 14 body measurements | Tracks 12 body measurements |
| ITO(Indium Tin Oxide) coating layer for precise measurements | Does not use ITO |
| Up To 16 users | Up To 16 users |
| Apple Health, Google Fit, and the Fitbit app | Apple Health, Google Fit, and the Fitbit app |
| Uses 3 x AAA batteries | Uses 3 x AAA batteries |
The picture below is a link to Amazon's Eufy page. This is an affiliate link in which I get paid a commission if a purchase is made. Demonstrated are the P1 and C1 models of the scale.
Why Is My EUFY Not Working?
A Eufy scale not working could be caused by low batteries or the scale is not placed properly. Additionally, ensure you are barefoot and standing still while the scale is measuring.
If the scale displays 'LO' or keeps turning off, it is due to low batteries. Replace them with 3 new AAA batteries.
If the scale displays 'Err', this indicates an error. Probably a reading error has occurred, stand barefoot and keep still for an accurate reading.
Check batteries and ensure scale is on a hard flat surface.
t>
How Do I Use EUFY Smart Scale?
The Eufy scale will display the weight, all other information will be displayed in the app.
After pairing the Eufy scale with the EufyLife app, just step on the scale with bare feet. As noted above your stats will be sent to the app on your device.
It should be noted that each person's profile will be automatically detected by the scale based on differences in weight and other stats. Therefore, there is no need to try to set up profiles but you will need to create a User ID.
For more details on setting up Eufy smart scale do the following:
Insert 3 x AAA Batteries into Eufy smart scale.
Place Eufy scale on a hard flat surface.
Either open the EufyLife App now to see the readings or let it sync.
Step onto the Eufy scale with bare feet and remain still until a reading is taken.
Step on Eufy scale with bare feet, keep still during reading, see results on EufyLife app.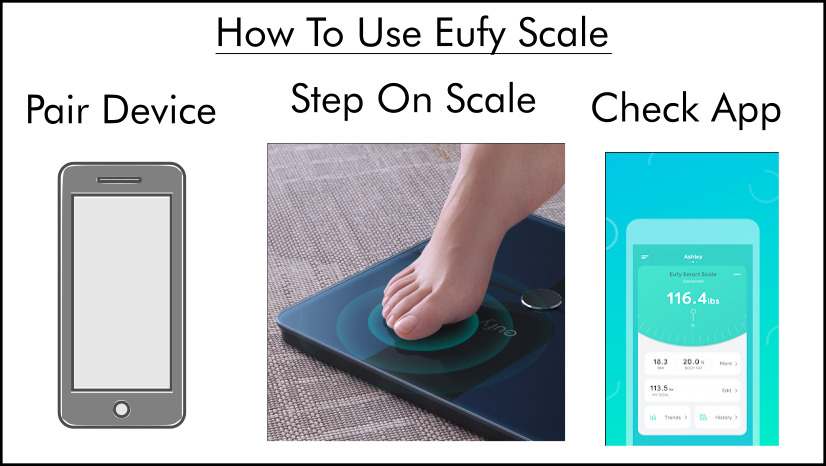 Eufy Scale LED Does Not Turn On
Your Eufy scale LED not turning on is probably due to either low batteries or a faulty scale.
The first thing to do is insert three new AAA batteries into the scale. Now step on the scale to test if the LED displays. New batteries should last about a year in this smart scale.
If after replacing the batteries you still do not see the LED display turn on, contact Eufy customer support. The information is below:
Eufy support: support@eufylife.com
USA Eufy Phone: 1-800-988-7973
Warranty: 15-month warranty
How Do I Reset My EUFY Scale?
To reset or re-calibrate your Eufy scale, step on the center of the scale and wait for the LED to register "0.0" which indicates the scale has been re-calibrated.
To reset or delete an entry in the app, swipe left on the reading you want to eliminate and select the 'X' to delete it.
See the section below titled, How do I reconnect my Eufy scale for the instructions for that procedure.
How Do I Reconnect My EUFY Scale?
To reconnect the Eufy scale, turn off the scale as well as Bluetooth on your device. Then turn back on the scale followed by Bluetooth on your device.
If you are still having issues, check the batteries and try installing three new AAA ones.
Check out my article: How To Conserve Water At Home
to learn ways to lower your water bill.
How To Install EufyLife App
To install the EufyLife App download it from the Apple App Store or the Google Play Store. Next, register with your Email address to create an account.
Make sure Bluetooth is enabled on your smartphone, but pair the device using the EufyLife App and not through Bluetooth.
Open the EufyLife App and follow the instructions to pair your device. You will be asked your name, height, and gender. You can choose to sync your data with Apple Health if using an Apple device.
Download App, 2. Enable Bluetooth and pair through App, 3. Register name, height, gender.
What Is EufyLife?
EufyLife is the app required to sync the Eufy smart scale to your device. The app is compatible with Apple and Google devices.
The EufyLife app pairs by way of Bluetooth and syncs up to 14 different measurements depending on which scale you own.
The EufyLife App requires:
iPhone iOS 9.0 or later.
iPad iPadOS 9.0 or later.
iPod touch iOS 9.0 or later.
Google Android 4.4 and up.
How Do EUFY Scales Work?
Eufy scales work by using four sensors to calculate up to 14 separate measurements. It uses Bluetooth to sync with your Apple or Google device.
The Eufy P1 scale records weight, body fat %, body fat mass, BMI, lean body mass, protein, BMR, visceral fat, muscle, muscle mass, bone, body age, bone mass, water. It also has an ITO-coated top layer for precise measurements.
According to Eufy.com, the latest scale, the P1 utilizes "Two pairs of super-sensitive G-shaped sensors ensure more precise measurements compared to other sensor types."
If you want to learn some other skills such as What To Know About Air Purifiers | Buying Guide, or looking to buy a water filter, or just want some general maintenance guides, I've got you covered with my other articles.
Summary
This article was about Eufy scale troubleshooting and covered frequently encountered issues. Most anyone can perform the troubleshooting steps shown above; if you are still having issues be sure to contact Eufy's customer support at the number listed above.