Updated 10/29/2022
We cover the best undercounter refrigerators as well as their pros and cons and if they might be worth it for you.
You might be needing additional fridge space and looking at your options. So, are under-counter refrigerators worth it? Before purchasing, see the different types as well as the pros and cons in this article.
And be sure to find out if indoor smokeless grills are worth it too in my DIY skills series of articles. Maybe you're looking to buy a water filter, or just want some general maintenance guides, I've got you covered with my other articles.
Jump right to the buyer's guide with the best undercounter refrigerators.
THIS POST MAY CONTAIN AFFILIATE LINKS. As an Amazon Associate, I earn from qualifying purchases. PLEASE READ MY DISCLOSURE FOR MORE INFO.
Top-Rated Undercounter Refrigerators
Buyer's Guide: Top 5 Best Undercounter Refrigerators
Taking into account everything discussed above, below are the top-rated undercounter refrigerators available on Amazon. These are selected for their specific purpose, build quality, and ratings. I thought I would show the top picks for units with doors, drawers, wine coolers, and glass doors.
Top Pick: Best All-Around Undercounter Fridge:

HCK C150-SD Indoor/Outdoor
Best All-Around Fridge
The best thing about the unit is how quiet it is. You can place it in a TV or media room.
Large interior with 5.3 cu ft. able to hold up to 161 cans. 3 removable, slide-out shelves.
Digital temperature control allows you to set a range from 32F – 50F.
Install the unit outside and for security has a door lock.
Auto defrost is a nice feature to have as well as a reversible door.
See the table above for specs.

What's Great About The HCK C150-SD Fridge –
Digital controls
3 slide-out chrome shelves
Very quiet 39 dB.
Weatherproof design. Rated for outdoor use, or indoor use.
Auto defrost
5.3 cu ft. – 161 cans. and 23.6 x 23.6 x 34 inches
32°F- 50°F
Know that this is a fridge, not a freezer. It does get to 32F degrees though.
The HCK C150 fridge stands out for how quiet it is at only 39dB. It is made from stainless steel, has auto defrost, and is rated for outdoor use. See the specs for this unit in the table above, but holds 161 cans, gets down to 32F degrees, and has great reviews and ratings.

---
Best Wine Cooler Fridge:

Antarctic Star 26 Bottle Wine Cooler

Best Freestanding Wine Bottle Cooler:
If you just need a quality wine bottle cooler that looks good too, this is it.
The Antarctic Star 26 bottle wine cooler/cabinet beverage refrigerator ranks as the top freestanding wine cooler. Its humidity control feature stands it apart as well as how quiet it is. It really is great for the price. A reinforced glass door with an airtight seal helps to maintain an ideal humidity level, all in a compact and modern design perfect for your living room. Soft blue LED lighting beautifully showcases the wine but also won't damage the wine. It holds 26 bottles of wine.
— See the specs in the table above —
---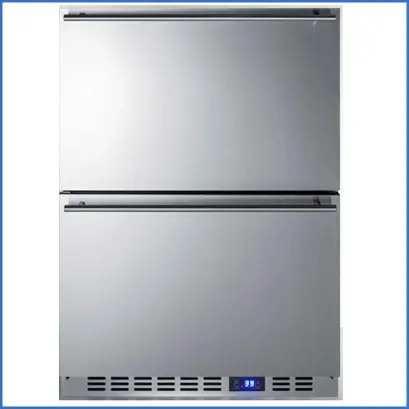 Good Outdoor w/ Drawers Fridge:
The Summit Built-in Drawer fridge is one of the best listed on Amazon as being rated for outdoor use and has drawers. It has a digital thermostat control, stainless steel design, and can also be used as freestanding. It has an open door alarm and auto defrost as well.
— See the specs in the table above —
---
Best Beverage Cooler w/Glass Door:

Kalamera 24-inch Beverage Refrigerator

Best Bev. w/Glass Doors:
Just need a beverage cooler that can also be used as a wine cooler, this is the one to buy.
The Kalamera 24-inch beverage cooler refrigerator is designed from stainless steel, with a triple-layered transparent glass door insert, and is lit by blue LED lighting. It is a good-looking model that runs very quietly and has nice temperature controls. It vents to the front, has space for bottles below, and of course, has adjustable shelves.
— See the specs in the table above —
---
Check out these other options from Amazon:
Are Undercounter Refrigerators Worth It?
Yes, under-counter refrigerators are worth it as they add convenience and enhance our modern lifestyles. Today we want options and choices when setting up our living spaces, this is where smaller-sized refrigerators come in.
Different styles are available, some with drawers, some with freezers and ice-makers.
Place one in the kitchen to add extra space to your full-sized fridge. Install an undercounter fridge in another room, or outside(under certain conditions) by the grill and stock it with your favorite beverages.
Live in a small space such as an apartment? Buy one of these fridges that doesn't take up much room. And why not pair one up with a countertop ice maker for total convenience.
So what are the pros and cons of owning an undercounter refrigerator?
5 Advantages Of An Undercounter Fridge:
Additional Storage Space: Under-counter fridges are perfect to

supplement the main unit

in the kitchen. These smaller refrigerators add additional space to keep your beverages as well as food. Choose to put the overflow in this fridge or decide to keep all the drinks here, lot's of choices.
Convenience and Ease Of Access: Install a refrigerator in the kitchen, the living room, or even the patio by the grill. Place the fridge

close to where you live

and hang out. Instead of walking into the kitchen just to get a snack or drink, the fridge could be close at hand in the same room.
Space Efficient: These are not large units such as full-sized freezers that take up a lot of space. They are the perfect size to place almost anywhere and make life easier. Also great for small apartments that need to conserve all available space.
ADA-Compliant and Accessibility: The height of these fridges provide

easier access

for those with disabilities, in a wheelchair, or even children who find a full-sized refrigerator difficult to open. The drawer-type of fridge seems to be more popular as it is easier to reach into this type of fridge than having to bend down and into the fridge.
Economical: Today's small fridges cost somewhere in the range of

$20 – $40 a year

to run, which is about 200-300 kWh/year. This of course depends on how you use it and its features, but they are nonetheless, economical. Note: these are not equivalent to the dorm-style cheap fridges available, those are not very economical.
3 Disadvantages Of An Undercounter Fridge:
Expensive: Undercounter refrigerators are designed and constructed to be built-in units. As such these are more expensive than a regular freestanding dorm-type refrigerator.
Possibly Noisy: Some under-counter fridges are noisier than others, this may be important if it is installed in a living room or family room situation. A quality fridge although priced higher should also be quieter when running.
Ensure Proper Venting: This type of refrigerator is installed in and next to cabinetry, so its venting is built underneath the unit and exhausts out the bottom front. Double-check your location for adequate venting space.
Certainly, your personal needs will decide if a fridge is worth it or not. See the section below on what to look for when choosing a style and type of fridge.
What Is An Undercounter Refrigerator?
We should explain what an under counter refrigerator is and how it differs from other small fridges.
Under-counter refrigerators are intended to be built in or installed alongside cabinetry. They are secured in place to prevent tipping and have ventilation along the bottom front of the unit. Common models have two drawers but others have a standard door with shelves inside.
This type of fridge most often requires its own dedicated power receptacle, and if the unit also includes an ice maker, it will need a water supply line available. Some models are made to be installed outside under certain conditions and will have better insulation.
Most under counter refrigerators are quality products and built to last 10 to 20 years. The components such as the compressor, insulation, and available features are superior to the cheaper mini fridge or dorm-style fridges. Note: mini-fridges cannot be installed in cabinetry, they must be freestanding.
The size of these units is typically 24″ width and a 32″-33″ height, and their capacity is about 4.7-5.3cu. ft.
Tip: As with a regular-size fridge, be sure to clean under a built-in fridge regularly to prevent dust build-up which will decrease efficiency.
Now that you know what an under-counter fridge is, see below for the various types available to suit your needs.
List Of The Different Types Of Undercounter Refrigerators
Undercounter refrigerators are a convenient and discreet way to store food in the kitchen. There are three different kinds to choose from – Freestanding, Built-in, and Drawer-style. Let's take a look at each one:
Undercounter refrigerators either have pull-out drawers or a regular hinged door with shelves inside the unit.
Undercounter Refrigerator Drawer:
Fridge drawer models might have one or two drawers. Some units contain a freezer and ice maker, others are solely refrigerators. Other features include digital control panels and Wi-Fi capabilities to inform you when the door remains open, for example.
Refrigerator drawers are popular because of their innovation and storage availability. They can fit seamlessly in with the surrounding cabinets and can be placed in a game/media room, living room, or kitchen, among others. An optional panel front to match the surrounding cabinets is commonly available with this style.
Regular Hinged Door Fridge:
Hinged door models can have a clear glass door to see the inside contents. Other models might have shelves that pull out to help with access.
In addition, these fridges can specifically be wine coolers, beverage centers, or a combination of fridge and freezer.
Freestanding Vs. Built-In Refrigerators: What's The Difference?
It's important to know how a freestanding fridge is different than a built-in undercounter fridge. As mentioned above, a freestanding or mini fridge is usually quite cheaper in price and quality than a built-in fridge.
A freestanding fridge is to be placed in a corner or out in the open. It requires adequate air space for ventilation all around it. It cannot be installed in cabinetry or a confined space. They usually last a few years because of their cheaper components. The best use of most mini-fridges is just for keeping beverages cool, not for storing food such as meat as they may not consistently provide a low enough temperature.
A built-in undercounter fridge is to be installed under a counter alongside cabinetry and vents out the bottom front. These are more durable and made to last a decade or two. Note that some built-in fridges can also be used freestanding, but only if the manufacturer states it.
Most freestanding fridges have a limited 1-year warranty. Good built-in drawer refrigerators have a 2-year warranty plus a 5-year limited warranty.
Only a built-in model of an undercounter refrigerator should be installed in cabinetry.
What To Look For In An Undercounter Fridge
You'll want to know how to select a new undercounter refrigerator. I've listed some important tips and considerations to assist you in choosing the best undercounter fridge for your needs.
Choose Your Size: Undercounter fridges vary by size, measure your existing space so you know the size constraints you are working with. This includes height, width, and depth. Also, make sure there is room for the drawer or door to open fully.
The height of undercounter refrigerators will be between

32 and 34 inches

. Note: ADA compliance is 32 inches.
The width of undercounter refrigerators varies from

15 to 24 inches

. 24 inches is the standard size of a dishwasher for reference.
The depth of undercounter fridges is from

22 to 24 inches

. The standard lower cabinet depth is 24″.
Intended Use: What do you plan to do with a new undercounter fridge? Some models are specifically built for wine bottles, others as beverage coolers. Will it be in the kitchen, a living space, or outside by the grill? Not all models can go outside, so select one build for this purpose.
Drawer Style Or Door Style: Need more versatility, then choose a drawer style with a fridge on top and a freezer on the bottom. Just looking to cool beverages, a door style might be a better fit. Also, doors can be solid or glass front.
Capacity: Ensure the inside is large enough to hold your intended contents. That is, make sure the internal height will allow for tall containers. The capacity of these is roughly around 5cu ft.
Special Features: Check out the special features different models have. Look for LED lighting, a digital control panel, Wi-Fi capabilities, soft-close drawers, a door lock, and dual temperature control zones.
Things to do: Measure for size, decide on its purpose, choose a style and capacity, and pick extra features.
Summary
Undercounter refrigerators are worth it if decide ahead of time what type you are looking for. Measure your space and make sure the model you buy is designed to be built-in so it can be installed in cabinetry.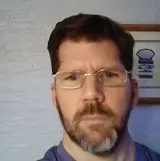 I'm J.S., I created and am the content manager at DIYHouseSkills.com. I do the research and write the articles that appear on this website. I've learned many household skills during my life and think it's important to at least know the basics so that you can save yourself time and money… READ FULL BIO >
Check out some other articles: