Unlock your culinary potential with the Babish Cast Iron Pan. Discover the power of this versatile cooking tool and unleash your creativity in the kitchen. Get ready to create delicious and memorable meals like never before.
Introduction:
Are you a foodie searching for the perfect cooking tool to craft your magical culinary creations?
Search no further than the Babish Cast Iron Everyday Pan! This 13-inch cast iron skillet is a staple in every chef's kitchen and is the perfect tool for frying, sautéing, simmering, and baking.
This versatile pan is pre-seasoned, making it ready to use from the moment you receive it.
In this blog post, we'll dive deeper into the features and highlights that make the Babish Cast Iron Everyday Pan the ultimate kitchen companion.
THIS PAGE CONTAINS AFFILIATE LINKS. As an Amazon Associate, I earn from qualifying purchases. PLEASE READ MY DISCLOSURE FOR MORE INFO.
Key Features of Babish Cast Iron Pan
Here are some of the great features of the Babish Cast Iron Everyday Pan:
Durable cast iron construction
Preseasoned for instant use
Two loop handles for easy transport
Spatula-friendly sidewalls
Generous pour spouts
Superior heat retention and even cooking
Glass lid allows you to keep an eye on your food as it cooks without lifting the lid and losing moisture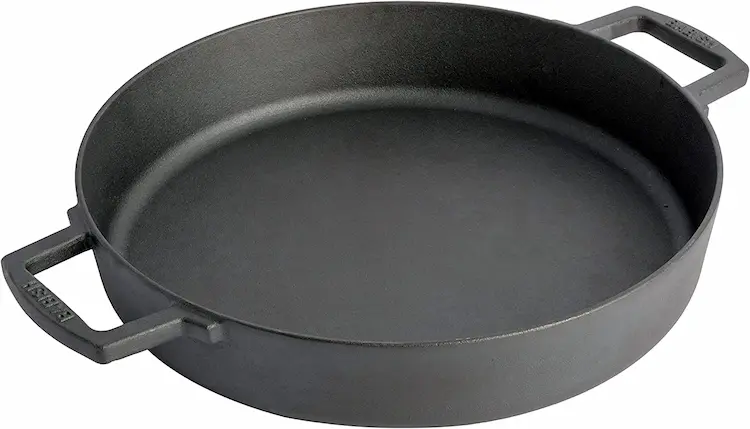 Where to Buy
The Babish Cast Iron Preseasoned Pan, 13-Inch is a great choice for anyone looking to upgrade their cookware.
Constructed from high-quality cast iron, this pan can make delicious meals for years to come and is available on Amazon.
As an Amazon affiliate, I may earn a small commission on any purchases made through the provided links at no additional cost to you.
Babish Cast Iron Pan Key Features
Unmatched Durability:
The Babish Cast Iron Everyday Pan is constructed from high-quality cast iron that provides unbeatable heat distribution and retention for evenly cooked meals.
This pan's solid construction means it can withstand the test of time, ensuring you have a sturdy, long-lasting skillet in your kitchen arsenal.
Convenient Design:
The dual handles on either side provide safe and easy transportation from the oven to your table, while the side spouts prevent spills when pouring sauces or oils.
Whether you're cooking a large meal or one for yourself, the 13-inch size is perfect for any cooking need.
Additionally, the Babish Cast Iron Everyday Pan can be used on any stovetop, including induction, gas, ceramic and electric stovetops, as well as grills and the oven (up to 500°F).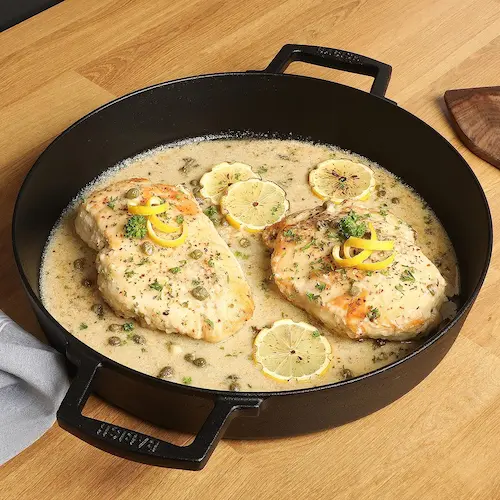 Pre-seasoned and Ready to Use:
The Babish Cast Iron Everyday Pan arrives pre-seasoned, making it an effortless addition to your kitchen.
The process of pre-seasoning or "curing" the pan with oil makes it non-stick and reduces the chance of rust or other corrosion.
Additionally, this process gives your pan a protective layer that takes the place of traditional non-stick coatings that are often toxic or can flake away over time.
Versatile Cooking Abilities:
The Babish Cast Iron Everyday Pan is perfect for a range of cooking styles, from pan-frying chicken to baking cornbread. It's also great for searing steaks, sautéing vegetables, baking cast iron skillet pizza or simmering stews.
The metal utensil-safe design means you don't need to worry about scratching the surface or chipping away at the pre-seasoning. This pan can handle whatever culinary adventure you throw its way.
Cooking surfaces:
Pre-seasoned cast iron can be used on all cooking surfaces, such as: induction, ceramic, electric and gas cooktops, in your oven, or on the grill.
On glass or ceramic cooktops, lift cookware—never slide—to prevent scratching.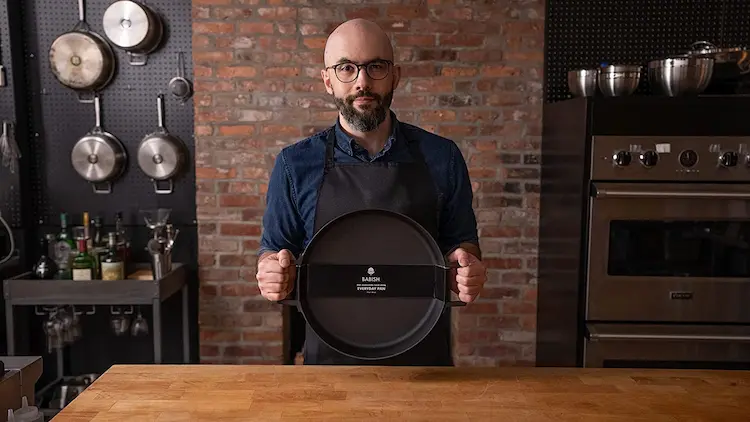 Heat Retention and Even Distribution:
This robust cast iron pan is designed to provide superior heat retention and even distribution for all of your cooking needs.
The heavy cast iron construction ensures durability and efficient heat distribution, while the pre-seasoned surface helps to prevent hotspots when cooking.
With its large size and helper handles, this pan is perfect for searing, sautéing, frying, braising, baking, grilling and more.
Easy Maintenance and Cleaning:
Caring for your Babish Cast Iron Everyday Pan is easier than you think.
Simply wash it by hand with warm water, using a brush or sponge to remove any residue.
Avoid using soap or a dishwasher, as these can strip away the seasoning or even cause the pan to rust.
After washing, make sure to dry the pan thoroughly and apply a thin layer of oil for safekeeping.
Collaboration with Andrew Rea (Binging with Babish):
Andrew Rea, the mastermind behind Binging with Babish, has recently collaborated with Babish Cast Iron to create the Babish Cast Iron Everyday Pan.
The pan is designed to be a versatile and durable kitchen tool that can be used for a variety of cooking tasks.
Andrew Rea's expertise in the culinary world makes this collaboration an ideal match. With his guidance and knowledge of cooking techniques, the Babish Cast Iron Everyday Pan is sure to become an essential kitchen item for any home cook.
Benefits of Using the Babish Cast Iron Everyday Pan
Crafted from heavy cast iron, it sears, sautés, fries, and bakes evenly through superior heat distribution and retention. It is oven safe up to 500°F and pre-seasoned for an easy nonstick surface. Here are some of the benefits of using this pan:
Durable construction – The cast iron construction ensures that the pan will last for years to come.
Even heating – The pan distributes heat evenly throughout the cooking surface so your food cooks evenly without burning or sticking.
Versatile – This pan can be used for a variety of tasks such as sautéing, frying, braising, baking, grilling and more.
Nonstick surface – The pre-seasoned finish provides a nonstick surface so you don't have to worry about food sticking to the pan.
Easy to clean – Hand wash only with warm water and mild soap for easy cleaning.
Care Instructions
To ensure that your pan lasts for years to come, it's important to follow the care instructions. Here are some tips for getting the most out of your cast iron pan:
Hand wash only with warm water, soap and a non-abrasive sponge. Do not soak.
Heat slowly – Cast Iron retains heat very well, but will absorb heat quickly so be sure to start at a lower temperature and increase gradually.
Give your cast iron skillet a good rinse using soap and hot water, but instead of a sponge, use some steel wool to scrub it clean.
Towel dry immediately after washing to prevent rusting.
Regular seasoning maximizes the performance and longevity of your cast iron cookware.
Conclusion
The Babish Cast Iron Everyday Pan is the ultimate cooking tool for novice chefs, food enthusiasts, and professional cooks.
Its versatility, durability, and unmatched cooking abilities make it a staple in any kitchen. Whether you're looking to sauté vegetables, pan-sear chicken, or bake bread, this cast iron skillet can do it all.
The pre-seasoned design and easy maintenance make it a practical addition to your kitchen that will last a lifetime.
In conclusion, the Babish Cast Iron Everyday Pan is a must-have for any home cook or professional chef.
BUY your Babish Cast Iron 13-Inch Pan Today.(Amazon)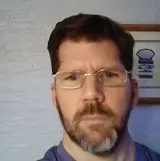 I'm J.S., I created and am the content manager at DIYHouseSkills.com. I do the research and write the articles that appear on this website. I've learned many household skills during my life and think it's important to at least know the basics so that you can save yourself time and money… READ FULL BIO >
Related: Understanding Kitchen Knife Composition & Materials