Are electric kettles worth it? This is a question that many people ask, and the answer depends on a few factors. In this article, we'll take a look at some of the pros and cons of using an electric kettle to brew tea or coffee vs. a traditional stovetop-heated one. By the end, you should have a better idea of whether or not an electric kettle is right for you.
Are you looking for a new electric kettle?
It's been reported that over 6 million electric kettles were sold in 2019 in the U.S. This number keeps increasing year over year as more Americans learn about their benefits.
And be sure to find out if an undercounter refrigerator or an indoor smokeless grill is worth it too in my DIY skills series of articles. Maybe you're looking to buy a water filter, pizza oven, or just want some general maintenance guides, I've got you covered with my other articles.
Let's get started!
THIS POST MAY CONTAIN AFFILIATE LINKS. As an Amazon Associate, I earn from qualifying purchases. PLEASE READ MY DISCLOSURE FOR MORE INFO.
Are electric kettles worth it?
Yes, an electric kettle is worth it for many reasons, but the top three main reasons are its convenience, energy efficiency, and adjustable settings.
#1) The first reason is that electric kettles are very convenient, allowing you to boil water quickly and with less hassle than traditional stovetop-heated ones.
#2) The second reason is that electric kettles are more energy-efficient than traditional stovetop-heated ones, which may be important to you if you are concerned about your electric bills.
#3) Finally, electric kettles are worth it because they offer a better selection of temperature settings than traditional stovetop-heated ones do, allowing you to brew different types of tea at the appropriate temperatures.
Let's look at each of these reasons in more detail.
Electric kettles are very convenient:
Kettles with heating element coils are much faster than stovetop kettles at heating up water; electric kettles can be ready to brew in as little as 2 minutes, with 3-5 minutes on average for 4 cups of water.
Another convenience is they keep water warm inside the pot and automatically shut off when the water boils, so you don't have to keep an eye on them. Many have a 'keep warm' setting.
Electric kettles are more energy-efficient:
Traditional stovetop-heated kettles are often slower to heat up the water inside them, especially if you have a lot of water to boil. Electric kettles solve this problem by using electric heating elements – electric coils that heat up when an electric current is passed through them.
This electric current heats up the water directly, instead of heating it indirectly via conduction, as with traditional stovetop-heated kettles. You can find kettles that use between 1200W and 3000W of electricity but only need to run for a few minutes.
As a result, electric kettles use significantly less energy than stovetop ones.
Electric kettles offer a better selection of temperature settings:
Most electric kettles boil water at four or more temperature settings. Some also offer programmable settings that allow you to set a particular temperature and time for them to automatically start heating up the water inside them.
There's no reason to wait – these kettles make hot beverages like green tea and coffee far easier to make than traditional stovetop ones do!
Other uses for an electric kettle besides tea
You can use electric kettles to make hot water for things like oatmeal, hot cocoa, coffee, and more! After all, these kettles make hot water faster than traditional stovetop-heated kettles.
What's great about them is that they're a versatile appliance that can be used for a number of different tasks. These kettles are one of those appliances that you simply won't regret purchasing!
What is an electric kettle and how does it work?
An electric kettle works with a heating element heating up water with electric coils which are powered by an electric current that heats them up via resistance heating. As a result, electric kettles use far less energy than traditional stovetop-heated kettles do.
Electric kettles have temperature knobs or buttons on them, which control how much electric current is going through the coils and in turn, how hot the water inside them gets.
Popular models have a kettle that sits in a base unit. The base is where the coil is located.
Types of electric kettles
Electric kettles vary in their material, features, and size. Look for either stainless steel or glass construction and cordless operation.
Material: Stainless steel, Glass, Plastic
Features: Auto shut-off, Temperature control settings, Timer setting
Size: 0.8L – 1.8L or larger. 1.7L is common.
Try to avoid plastic as it can leach chemicals and break down over time.
Factors to consider when purchasing a new electric kettle
Before purchasing a new electric kettle, there are some things to know.
Electric kettles

vary in size

, so electric kettles come in different capacities. If you need a lot of hot water for things like oatmeal and coffee, consider getting an electric kettle that offers a larger capacity than the average electric kettle. 1.7 liters is about average and is equal to about 7 cups.
Electric kettles also

vary in material

– some electric kettles are made of stainless steel while others are made of plastic. Make sure to consider what material electric kettle you want to purchase, as the electric kettle should be easy to clean.
Other factors include electric kettles' ease of use, design, and warranty. Electric kettles should be designed in a way that makes them easy to use, with controls located in the handle or spout.
Is a plastic electric kettle safe?
There is some debate as to whether plastic is safe to use when boiling water. The general consensus is to just avoid plastic kettles as they can possibly leach PVC (polyvinyl chloride) and BPA (bisphenol A). Another concern is that the plastic could break down over time and leave debris in your water.
As I stated above, the best option is to buy a stainless steel kettle or glass kettle and avoid a plastic electric kettle.
Should I buy one with temperature settings or just go for a simple model that boils water quickly?
Electric kettles with temperature settings offer you more control – for example, kettles with a higher maximum and minimum setting usually produce hotter water.
I think it is definitely worth it to select one with temperature control settings. The added convenience to be able to set your desired temperature and not having to monitor it is very helpful.
What is the difference between an electric kettle and a stove-top kettle?
An electric kettle boils water by sending an electric current through an electric coil, whereas stove-top kettles boil water by heating it up on top of a stove.
Electric kettles are the more efficient option when it comes to boiling water – they can heat up and reach the boiling point of water in just minutes.
They also offer an advantage over stove-top kettles in terms of safety – electric kettles are designed to be safer because you cannot burn your hand on electric coils, unlike stove-top kettles, which have heated surfaces.
Do electric water kettles use a lot of electricity?
Electric kettles are more energy-efficient, but how much electricity do they use?
Electric kettles can use anywhere from 1500 to 3000 watts of electricity depending on their size. Kettles with larger electric coil (heating) systems will use more electric current than smaller electric coil systems.
Example: A 1500 W kettle used for 30 minutes every day would cost about $30/year.
Find the daily energy consumption by using this formula: (1,500 W × Hrs Used) ÷ 1,000 = kWh
Why do electric kettles make noise?
The noise from an electric kettle is usually a popping or boiling sound that electric kettles produce when the electric current in their electric coils reaches a high enough temperature to boil water.
Electric kettles usually make noise when they're close to being done heating up the electric coils, and they'll stop making noise when the electric kettle starts boiling water.
So if you hear an electric kettle making a popping or boiling sound, the kettle is almost done as it is reaching the boiling point.
Cordless electric kettles
A cordless electric kettle is an electric kettle that doesn't have a cord attached to the pot, rather it has a base unit that plugs into an outlet. The kettle sits or connects to the base unit to boil the water. Once done, you lift the pot out of the base unit to use as you wish.
Pros and cons of using an electric kettle
Some of the pros and cons of an electric kettle are included in the following list.
Pros:
Ability to boil water faster than a stove-top kettle.
Safety features such as auto-shutoff function and temperature control.
Easier to clean because of their simple design.
Energy-efficient.
Very convenient.
Cons:
Higher price tag compared to stove-top kettles.
Electric coils that may require replacement after several years.
Might need de-scaling occasionally.
An electric kettle is the best choice when you want to boil water faster than a stove-top kettle can or need to quickly heat up some hot water for cooking purposes.
Reviews of the best electric kettles on the market today
Some of the best electric kettles sold today are designed for convenience, energy efficiency, useful features, and safety. To that end, I've listed top models across different styles and features to appeal to various needs.
Here are my top 4 picks for the best electric kettle to own: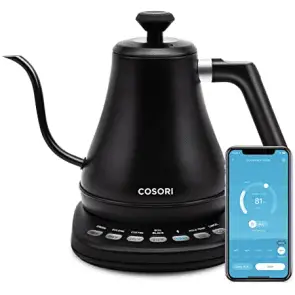 The Cosori is a smart gooseneck electric kettle with controls on the base to select your temperature. It has a stainless steel lid, interior, and spout. With the app, you can control and set your desired temperature and delayed start time.
A key feature for me is the gooseneck design of the spout that allows you to be precise with your pouring, which is ideal for pour-over coffee. It also has a blue LED light to indicate when it is finished heating water.
This Cosori kettle is similar to the Stagg EKG kettle but at a more affordable price and includes nice controls on the base unit. It is not only a bestseller, but it is also one of the top-rated which is why it is the best overall kettle to buy.
This product comes with a 1-year warranty, weighs 2.57 lbs., with dimensions of 11.6 x 9 x 7.7 in.
Key Features:
The Cosori electric gooseneck kettle has the following features:
0.8L (0.85qt.) capacity and 1200W
Bluetooth connectivity with a variable temperature control
A gooseneck design for precision pouring
A detachable base for cordless pouring
Auto shutoff for safety
4 Temperature settings 104F to 212F w/ 3-5 minute boil time
Made from 304 food-grade stainless steel
Cons:
0.8L capacity may be too small for some
What Do You Need To Get Started?
To get started using the Cosori do the following:
Add water to the pot but do not go above the "MAX" line.
Put on the lid and set the pot on the base.
Plug it in and the base will beep one time.
Select a preset temperature, the kettle will start heating.
You can press "HOLD" to maintain the temp. up to 60 minutes.
It will beep 3 times to indicate it has finished heating.
Tip: If it runs out of water, the boil-dry protection will turn off the kettle automatically.
---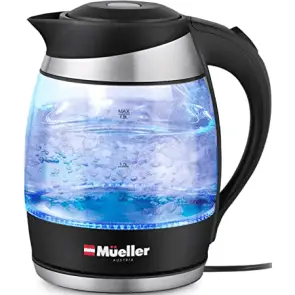 I was happy to find this electric kettle by Mueller called the Ultra Kettle with SpeedBoil Tech. This electric kettle features 1500 watts of power, plus an easy-to-fill wide-mouth opening that lets me add water without having to remove the electric kettle from the base.
It heats up water in about four minutes and is so quick that I can boil two cups of water for my coffee with no problem at all. It also has a blue LED so it's easy to see from across the room. If you want easy, fast water heating for your hot beverages, I recommend picking up The Ultra Kettle by Mueller.
Key Features:
1.8L capacity and 1500W
Auto shut-off and boil-dry protection for safety
Easy to see into the pot since it is glass
Borosilicate Glass and 304 stainless steel
Cons:
Hinged lid may be inconvenient for some
Only has one temperature
This unit weighs 2.99 lbs. with dimensions of 9.84 x 7.87 x 1.57 inches.
Tip: It is a good idea to boil and then discard about three pots of water in this unit before using it.
---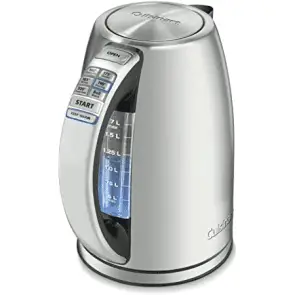 Cuisinart makes great products and the CPK-17 kettle is no exception. It features 1,500 watts of power to heat up your water quickly, and has 6 presets and a blue LED light.
The electric kettle heats up to 12 cups of water in just minutes and features an automatic shut-off feature when the water reaches a boil or if it is left on for too long. The stay-cool handles are easy to use and the auto-shut-off feature makes it safe for use around children.
The electric kettle is easy to clean with a removable filter at the spout which catches mineral deposits for great tasting water without any traces of chlorine, copper or other mineral traces that are often present in tap water.
Key Features:
1.7L capacity and 1500W
6 temperature presets 160F to 212F
"Open" button for the lid
30 minute keep warm setting
Window to see the water level
Cons:
The water gauge may be hard to read since it is located under the handle
More expensive than others on my list
This kettle has a 3-year limited warranty with dimensions of 8.8 x 6.1 x 9.7 inches.
Tip: This has a memory feature that allows it to be lifted off base for 2 minutes without shutting off.
---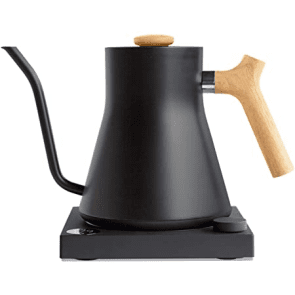 The Stagg EKG is one of the best-looking kettles with its modern design and styling. What sets it apart will also cost you more to purchase though. It is listed higher than other kettles but worth the price for the avid user. If you are ready to step up your brewing game, this kettle has the feature for you.
This has an LCD display screen and a dial allowing you to set the exact temperature you want. Plus it has a 'stopwatch' feature you can dial in to get just the right brew time.
Key Features:
0.9L capacity with 1200W
Gooseneck design for precision pouring
Classic looks in matte-black and maple wood handle
LCD display screen on the base lets you set your desired temperature as well as see the real-time temperature – 135°F-212°F
Built-in Brew Stopwatch to time your green tea or coffee extraction
Water will keep hot for up to 60 minutes
Cons:
More expensive than other options
The capacity may be too small for some
This has a 1-year warranty with dimensions of 11.25 x 6.63 x 8 inches.
Tip: Press the button to turn it on, then use it to dial in your temperature.
How to select the best one for you
Your personal preference will determine which one is best for your needs. However, the list below will help you in your selection.
Choose either stainless steel or glass.
1.7 liters is a useful size to make several cups(7) of boiling water.
Choose cordless for convenience.
Choose auto-shutoff and several temperature controls.
A largemouth will be easier to clean.
How to care for your new electric kettle, including tips on cleaning and storage
To care for and clean your electric kettle, unplug the electric kettle from its electric outlet, empty its reservoir, and wash the electric coil system with water and dishwashing liquid to remove any dust or other impurities that may have gathered on it.
How to clean a kettle:
Mix a water and vinegar solution and pour into the kettle. Let it sit for several minutes or bring it to a boil. Rinse out with fresh water.
You may store the electric kettle by wrapping its electric cord around it so you can keep it compact, or you can leave it out for easier access to hot water anytime.
Related: Best Bread Machine Buying Guide: Top 3 Revealed, and How to Accessorize Your Kitchen Countertop: Tips and Ideas
FAQs on electric kettles
Is it Okay to reboil water in a kettle?
Yes, there is no problem if you want to reboil water. Stale water might provide a slight odor though.
Is it better to boil a full kettle?
No, boil just the amount of water you need. You do not have to fill up the pot to the max. line.
Should you empty the kettle after use?
Yes, it is always preferable to start with fresh water instead of leaving old water in the pot.
Why are electric kettles so fast?
Their heating coils are efficient at boiling water and are located as close as possible to the water.
How long does an electric kettle last?
A study in the U.K showed that electric kettles lasted on average 4.4 years.
Electric Kettles Worth It – Summary
Electric kettles are worth it and are a convenient way to heat up water for making hot beverages, like coffee or tea. They come in a variety of shapes and sizes, and some even have automatic shut-off features so that you don't have to worry about leaving them on. If you drink a lot of hot beverages and want to save time, then an electric kettle is definitely worth it. They're also great for people who have busy schedules and don't have time to wait for the water to boil on the stove.
If you're looking for my top pick, I recommend you select the COSORI Electric Gooseneck Bluetooth with Variable Temperature Control Pour-Over Kettle. It is a quality, medium-sized, and well-priced model with useful features.